The Best Free Adobe XD Plugins In 2023
May 10, 2023 5958 seen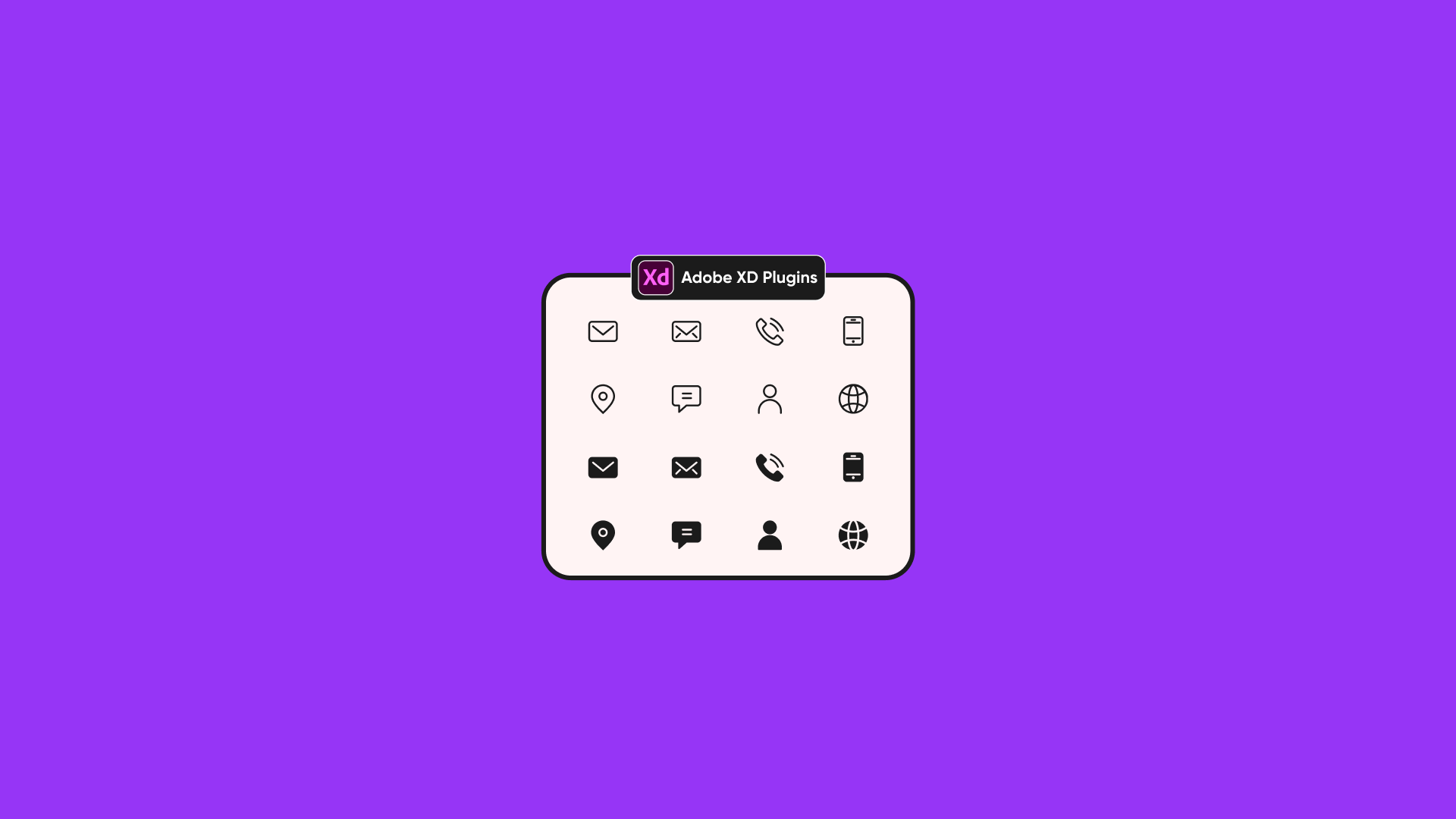 Adobe XD Icon Plugins In 2023
Icon plugins, also known as icon packs or icon sets, are software extensions or resources that provide collections of icons for various applications, websites, or user interfaces. These plugins typically offer a wide range of professionally designed icons in different styles, sizes, and formats, making it easier for developers, designers, and content creators to enhance their projects' visual appeal and usability.
Icon plugins can be used in graphic design software, such as Adobe Photoshop or Illustrator, website builders, content management systems, and even operating systems. They often come in downloadable files or packages containing multiple icons organized into categories or themes. Some plugins also include tools or features to help users customize or integrate icons seamlessly into their projects.
Benefits of using icon plugins include:
Visual Consistency: Icon packs provide a cohesive set of icons that follow a consistent style, ensuring a unified and professional appearance across an application or website.
Time-Saving: Instead of creating icons from scratch, designers can leverage pre-designed icons, saving time and effort in the design process.
Variety and Versatility: Icon plugins offer icons covering different topics, industries, and styles. This versatility allows designers to find icons for specific purposes or target audiences.
Scalability: Icons in plugins are often available in various sizes and formats, making them easily adaptable to different display resolutions and platforms.
Updates and Support: Many icon plugins receive regular updates, ensuring that new icons are added, and existing ones are refined. Some providers also offer support and assistance to users.
It's worth noting that icon plugins can be both free and paid. Free plugins often offer a limited selection of icons, while paid options provide more extensive libraries and additional features. When using icon plugins, it's essential to review the licensing terms to ensure compliance with any usage restrictions or attribution requirements.
It is a widely used and popular icon font library that provides a collection of scalable vector icons. It offers a comprehensive set of icons easily incorporated into various web and application designs. The icons in FontAwesome are created using scalable vector graphics (SVG) format, which means they can be resized without losing quality and customized with CSS (Cascading Style Sheets) properties.
Here are some key features and characteristics of FontAwesome:
FontAwesome provides a vast collection of icons covering various categories, including general UI icons, social media icons, navigation icons, and more. The library is regularly updated, expanding the available selection of icons.
FontAwesome icons are vector-based, allowing them to be scaled up or down without compromising their visual quality. Additionally, the icons can be styled and customized using CSS, allowing designers to change color, size, and shadow attributes.
FontAwesome icons are designed to be compatible with various platforms and devices. They can be used in web projects, mobile applications, desktop software, and even within print materials.
Flaticon is a popular online platform that provides a vast collection of free vector icons for personal and commercial use. It offers icons in various styles and categories, making it a valuable resource for designers, developers, and content creators.
Here are some key features and characteristics of Flaticon:
Flaticon offers a massive library of icons, with over 4 million vector icons available for download. The icons cover diverse categories such as business, technology, social media, food, and sports. The collection is continuously updated, ensuring a growing selection of icons.
Flaticon allows users to customize icons before downloading them. The platform provides icons in various formats, including SVG, PNG, EPS, and PSD, catering to different software and design requirements. Users can modify the icons' color, size, and orientation to suit their specific design needs.
Flaticon features a powerful search functionality that enables users to find icons based on keywords, categories, or styles. Additionally, users can apply filters to refine their search results and find the most relevant icons quickly.
While not a traditional plugin, IconJar is a standalone icon management tool that allows designers to organize and search for icons efficiently. It offers seamless integration with Adobe applications, enabling users to access and insert icons into their projects quickly.
Here are some key features and characteristics of IconJar:
IconJar allows users to organize icons into customizable sets and folders. This helps users categorize and manage icon collections based on themes, styles, projects, or other criteria.
The tool provides powerful search and filtering capabilities, enabling users to find specific icons within their collections quickly. Users can search by keywords, tags, file names, or even search within specific sets or folders.
IconJar provides a visual preview of icons, allowing users to see the icons in different sizes, colors, and states. With customizable export settings, users can also export icons in various formats, such as SVG, PNG, ICO, and more.