How To Create a Landing Page Without Coding
Jul 01, 2021 6050 seen



Landing Page Creators
There are few ways to create a landing page. For example, you can:
1. Use special designing platforms (no code)
2. Use WordPress plug-ins
3. Use a mailing list service
4. Use frameworks or ready-made templates
Today we will discuss no code landing page creators, which will help you to create a brilliant landing page.
Advantages:
• Most likely they have a visual editor that you can use to simply drag and drop the blocks you want, edit text, images, etc.
• Knowledge of coding skills is not required.
• Generally, there is a free trial so that you can familiarize yourself with the functionality of the platform and not buy a pig in a poke.
Disadvantages:
• They can charge you $ 4- $ 70 per month to use the platform. The price depends on different tariffs and functions.
• You can register your domain, but in most cases, you will not be able to purchase hosting. This means that your landing page remains in the possession of the platform you created it on, and you won't be able to make your page completely yours.
• Prices are sometimes very confusing. Please read the terms and conditions pages carefully. Many functional limitations are often hidden behind cheap prices. Disabling branding may not be possible, or the number of leads may be limited.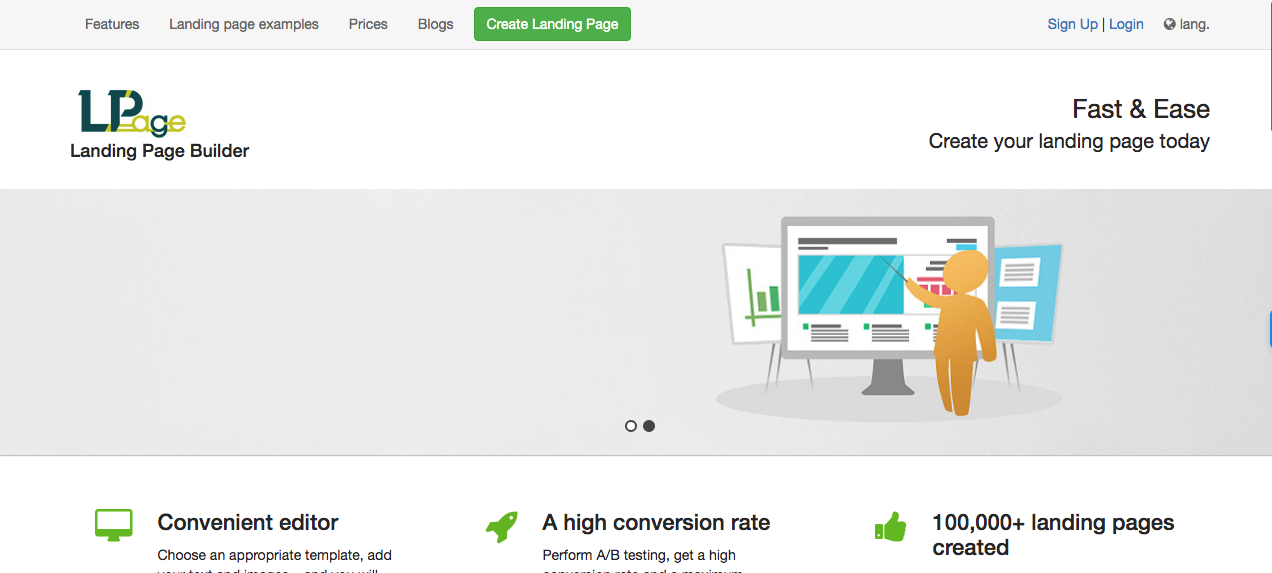 No Code Landing Page Creator
Around $ 14 a month if you pay for a full year and all you get is 3 templates that cannot be fully customized; you can only move certain elements. The design platform is very simple, even primitive.
Useful Features: You can use the ComeBacker option - a pop-up window to collect the contact information of users leaving the page. You can also add a counter, but that doesn't matter. You can test and even run your landing page, however, you cannot register a domain. You can also do A / B testing.
Disadvantages:
This platform is not the best. You can find the best options for the same price.
Conclusion:
If you are not worried about the strict framework of the template, you can take a look at them. You can test it for free.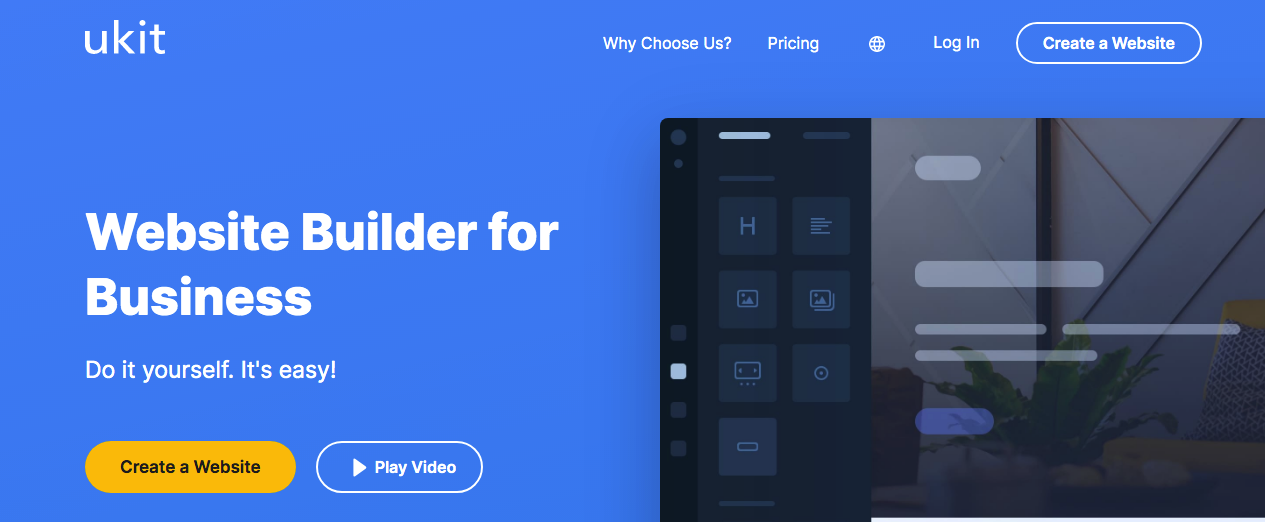 No Code Landing Page Creator
The price of this platform is only $ 8 per month. You can find over 200 templates categorized by topic. You can test the editor for free. There is integration with MailChimp and other services. Landing pages are mobile responsive. The templates are simple but stylish. I haven't found any animation, parallax effects, or anyone else to ask about here. However, there is an image slider on the platform.
Disadvantages:
There is no online help, although they claim to offer 24/7 support.

Conclusion:
Ukit should be enough for simple, stylish landing pages that aren't meant to be showy. The price and quality are roughly adequate. At this point, I decided to stop testing platforms after realizing one simple thing. You can create a good landing page on a design platform for $ 20-30 per month if you choose to pay for the entire year. However, it will be posted on the platform. There are also cheaper options, but they greatly lose in functionality and will look inconspicuous.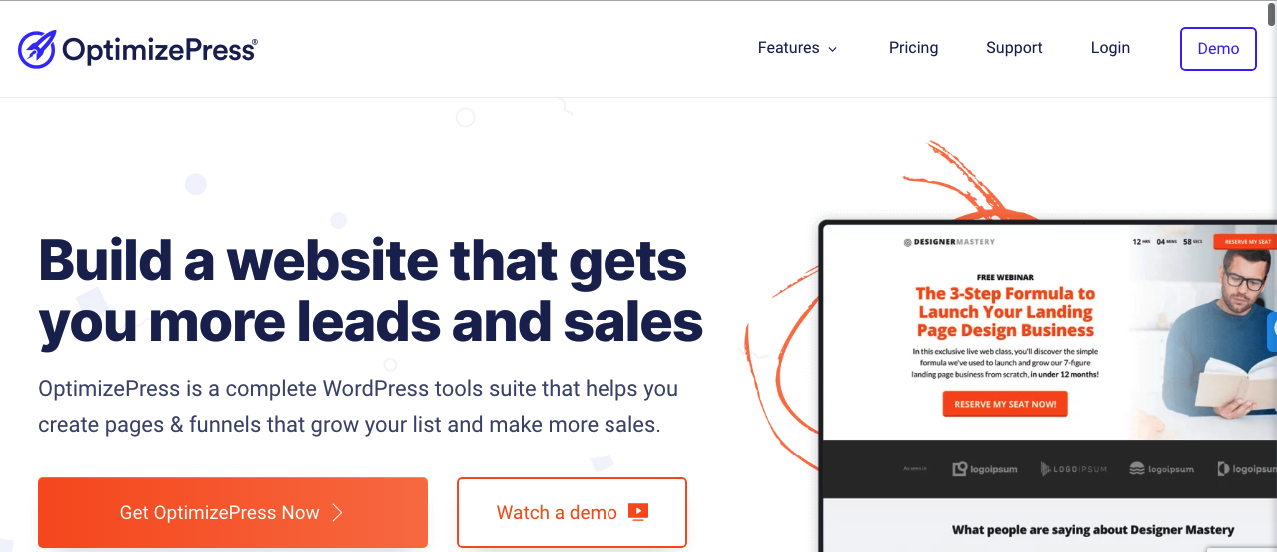 No Code Landing Page Creator
Optimizepress is a drag and drop function WordPress plugin. It allows you to select a template and drag items onto it. Visual editor; you can see all the changes at a glance. Optimization templates are customized for mobile, just like any landing page you create here. You can also choose content that will not be shown to mobile users. This plugin is easily compatible with any WordPress theme, can be integrated with various email services, and is easy to use with analytics and various marketing tools. There is a $ 97 rate which is good for 3 websites, but you won't be able to do A / B testing here. Also, there will be no 50 templates and beautiful animations. So I'm considering the mid-range $ 197 for work purposes, but I can't figure out one thing: why is it so expensive?
Disadvantages:
The price is higher than other plugins.
There is no free trial.
Conclusion:
This is an acceptable option if the price suits you.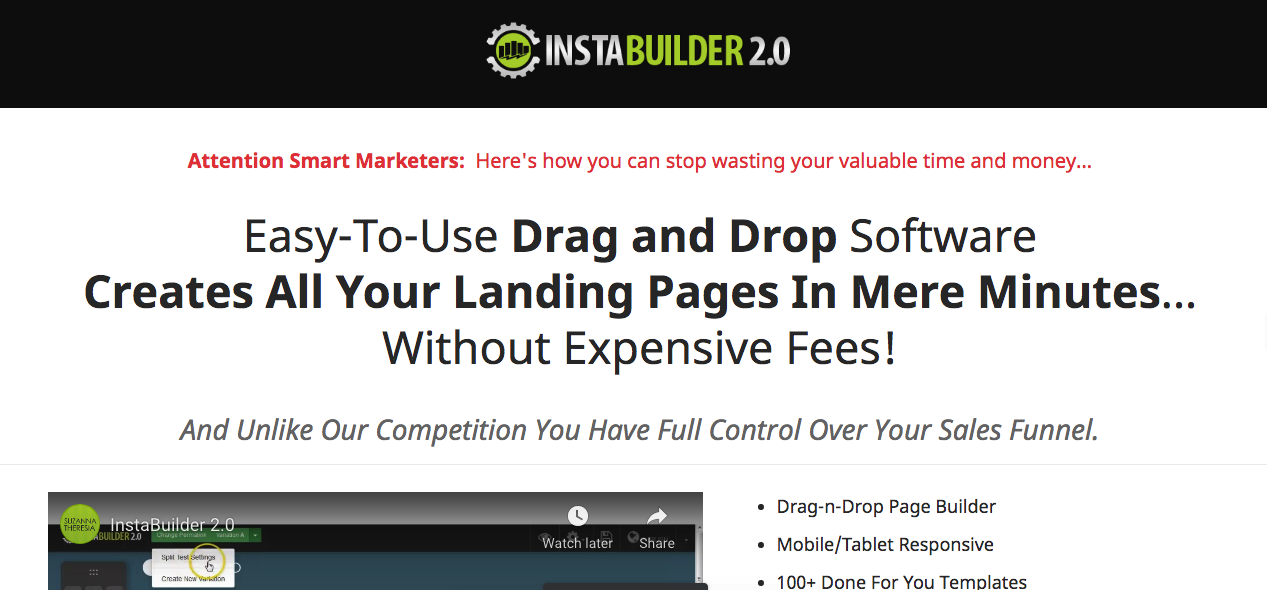 No Code Landing Page Creator
Instabuilder offers over 100 templates to choose from. Besides, it allows you to create and save your templates. There are many cool little things like counters, animations, pop-ups, toolbars, and more.
This plugin uses a drag-and-drop technique, has a gallery with ready-made graphics, and an editor for editing and enhancing photos. Any landing page created with this plugin is customizable for mobile devices.
There is also a feature that allows split testing and a unique feature for two-step and even three-step collecting contacts.
Generally speaking, this plugin has a ton of features, which may be one of the reasons it starts at $ 77. This is a one-time payment for the plugin itself and updates and support for one year. Later, you will be charged $ 37 per year. There is a 60-day money-back guarantee.
Disadvantages:
You cannot test it before purchasing.
Conclusion:
This is a great plugin and the price matches its quality. It has many features that the average marketer usually has to make additional payments for, such as pop-ups, panels, etc.