Existing Landing Page Creators
Jun 09, 2021 6360 seen



What is a Landing Page?

In general, landing pages are standalone web pages created for a marketing or advertising campaign. In other words, landing pages are one-page marketing websites. This is where a visitor "arrives" after they click an advertisement from other sites. They like online flyers for your business- you can directly sell your product or service, or get your potential customer to sign up to your email list.
Besides, landing pages are a great way to drive traffic, and improve SEO.
Overall, almost 70 % of B2B businesses use landing pages to generate leads for conversions.
Landing Page Creators
Landing page creators allow non-technical users to deploy web pages designed to drive visitors towards a specific conversion goal. Landing page creators are a key part of an organization's marketing strategies, they integrate directly into existing web development infrastructure and web content management systems to create a seamless web experience.
Here we created a list of top landing page builders. With the help of these creators, you can build, launch, publish pages without coding.
Let's look at each of them individually.
1. Unbounce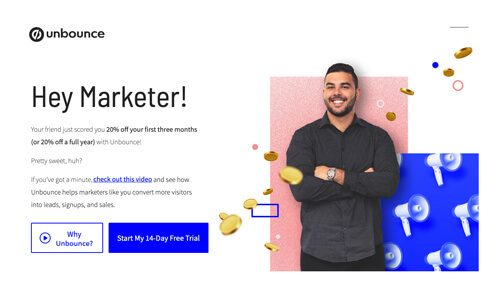 Pricing: The monthly plans start at $99/month for essential, $199/month for premium, from $499/month for enterprise

Free trial: Unbounce offers a 30-day free trial.
Unbounce lets you create, publish, and A / B test landing pages without coding. Unbounce Builder empowers every member of your team to quickly create custom landing pages, pop-ups, and sticky strips that match your brand.
Unbounce allows you to design your own landing page from scratch or choose among its gallery. Besides, it provides more tools to optimize your landing page conversion and manage multiple campaigns. This landing page builder can be integrated with the most popular marketing, CRM, and analytics tools.
2. Carrd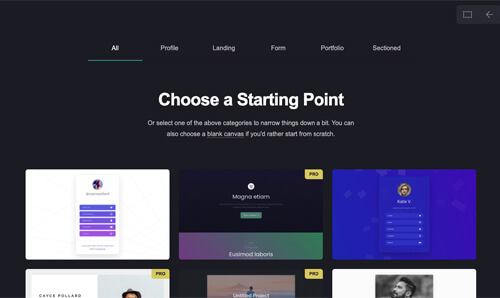 Pricing: The platform offers a yearly subscription at $19 for its standard plan, $49 for the pro plan, and 9$ for the pro lite plan.
Carrd is one of the easiest and fastest landing page builders. Moreover, you don't need an account to start building a page. Just go to the website, select one of the themes, and start creating a landing page. You only need to sign up when ready to publish your site.
Many Card themes only allow you to move items up and down to change their order. This is a bit limiting but allows for alignment of your content. You can add a container from the + menu and set multiple columns for it if you want items to be side by side. In the same way, you can add more text, videos, and other elements to your page.
3. Leadpages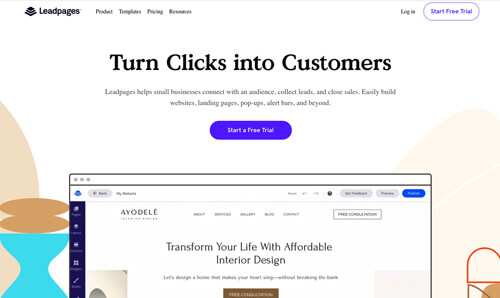 Pricing: The platform offers a monthly subscription at $37 for its standard plan, $79 for pro – all with 39% off for annual billing. Leadpages's advanced plan at $199/month is billed annually

Free trial: Leadpages offers a 14-day free trial.
The platform allows you to create campaigns and convert leads from any traffic source to leads and customers for your business. Depending on your business goals, you can use Leadpages to build an email list, make sales, register people for your webinars, launch your next product, and more.
You can easily launch landing pages, Facebook ads, and heavy-weight opt-in campaigns. It allows you to choose among its mobile-friendly templates, customize pop-boxes and enable built-in payments to drop a checkout on your landing page. Leadpages Facebook ad editor allows store owners to create ads, place pixels, and reach out to target audiences. In addition, A / B testing is available to customize campaigns for maximum impact. Leadpages work with your digital marketing tools, from Facebook ads to eCommerce.
4. Landingi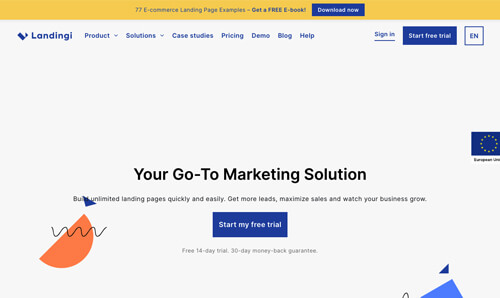 Pricing: The platform offers 4 pricing plans to fit your business needs: $39/month, $69/month, $149/month, $249/month. Landingi also offers 5% off for 3-month billing, 15% off for 6-month billing, 25% off for annual billing.

Free trial: The free trial of 14 days is fully featured
Using this platform, you don't need programming skills to create your own landing pages and convert traffic from your digital campaigns to customers.
It provides a wide range of tools so anyone can create and publish landing pages without having to write any code. Landingi allows your team to easily manage leads, analyze and optimize campaigns, automate key tasks with seamless integration. For digital agencies, Landingi helps manage multiple campaigns while staying organized and in touch with customers. You can also take advantage of its landing page design and import services to have the Landingi team create professional-looking and personalized landing pages.
5. ShortStack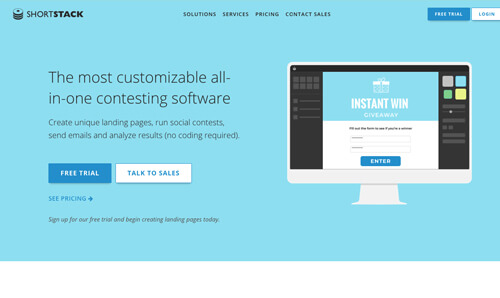 Pricing: The paid plans start at $29/month, $99/month, $199/month, $499/month. You can pay for a year in advance and save 55% on the Starter Plan, 42% on the Business Plan, and 20% on the Agency and Brand Plans.

Free trial: ShortStack has a free plan. You can build unlimited campaigns and send unlimited emails. You can use the free plan as long as you want or upgrade to one of the paid plans at any time.
ShortStack is not another specialized tool to create a landing page. It is a great platform to create high-quality landing pages for engaging social media marketing campaigns, contests, promotions, and much more.
ShortStack allows you to create professional-grade campaigns on time. Just drag and drop your content and images wherever you want to create contests, sweepstakes, forms, and landing pages. You can customize your campaigns with professionally designed templates and themes. Campaigns can be published both online and on Facebook, and can also be embedded in your website. Using ShortStack's action blocking feature, you can easily collect the data you need by asking people to fill out your form. In exchange for information, they are given access to your offer - giveaway access, e-book, discount code, etc.